Jiffy Lube Live | Bristow, Virginia
EVENT POSTPONED (date TBA). Hold on to your tickets! They will be valid for the new date once announced.
Some people were just born to be on stage, and that's clearly the case for Brooks and Dunn! The beloved country duo announced their retirement from music over a decade ago, but it seems they just couldn't resist the limelight, and now they're bringing their comeback tour to Jiffy Lube Live on Saturday 23rd May 2020! Of course, the "Hard Workin' Man" singers haven't been resting on their laurels during this time – they've been keeping the fires burning in the Entertainment Capital of the World with country's longest-running residency, Reba, Brooks & Dunn: Together In Vegas! Make sure to catch these incredible performers doing what they do best, as they gather fans for an unforgettable show of classic hits!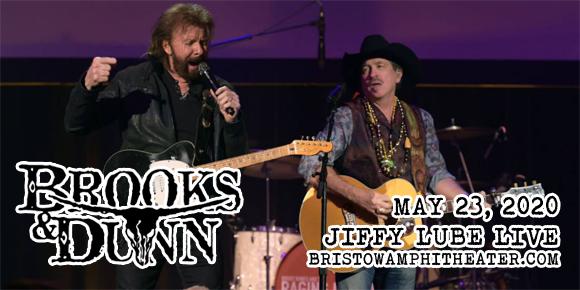 Brooks & Dunn are a country music duo formed of vocalists, songwriters and former solo artists Kix Brooks and Ronnie Dunn. The two performers teamed up in 1990, after it was suggested by Nashville-based record exective Tim DuBois, and they went on to sign with Arista Nashville the following year. In June 1991, they released their debut single, "Brand New Man," which became the first of 20 of their singles to reach the number one spot on the Hot Country Songs chart. Out of the 50 singles they have released over the years, 19 of them have also reached the top 10 on the Hot Country Songs chart, and two of their number ones – "My Maria" (a cover of the B.W. Stevenson song) and "Ain't Nothing 'bout You" – were named by Billboard as the top country songs of 1996 and 2001 respectively. They have released 12 studio albums throughout their career, 10 of which were certified platinum or multi-platinum by the RIAA. The duo has been honoured with 17 Country Music Association awards, 26 Academy of Country Music awards and two Grammy Awards over the course of their career, and they were inducted into the Country Music Hall of Fame in 2019. In 2009, they announced their retirement, but returned in 2015 to perform a Las Vegas residency with country singer Reba McEntire.