Jiffy Lube Live | Bristow, Virginia
Foreigner are headed to Jiffy Lube Live once more, on Friday 29th June 2018, to take to the stage on their Juke Box Heroes Tour! The band will also be joined by British rock kings Whitesnake and, led by son of the late, great Led Zeppelin drummer John Bonham, Jason Bonham's Led Zeppelin Evening!
"I'm excited to join forces with my fellow U.K. countrymen, David Coverdale and Jason Bonham, for what's sure to be a rockin' summer tour in the States," says founding member of Foreigner and lead guitarist Mick Jones.
Whitesnake lead singer David Coverdale had this to say about the show: "We are truly excited and looking forward to playing in 2018 with our friends, FOREIGNER and Jason Bonham, on their North American tour."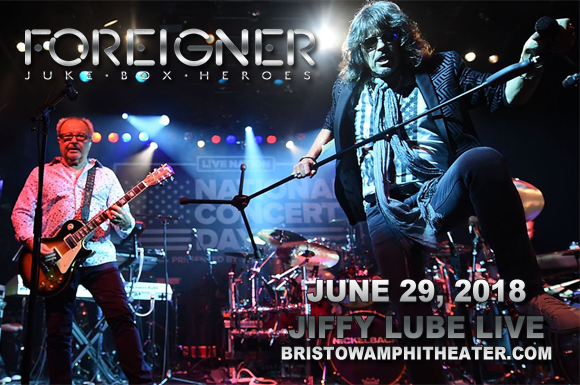 Foreigner is one of the world's best-selling bands of all time. A British-American hard rock group, Foreigner formed in New York City in 1976, releasing their debut album one year later, which sold more than four million copies in the United States and stayed in the Top 20 for a year. The album launched the popular hits "Feels Like the First Time", "Cold as Ice" and "Long, Long Way from Home". The band's biggest hit single, "I Want to Know What Love Is", was released in 1984 and topped the United Kingdom and United States Charts among others. The band has had fourteen Top 20 Hot 100 hits, and released six consecutive multi-platinum albums between 1977-84.