Jiffy Lube Live | Bristow, Virginia
Chicago – The Band & The Doobie Brothers have teamed up for a joint summer tour that will have you rocking out like it's 1975! The two multi-platinum-selling, Grammy Award-winning bands come to Jiffy Lube Live on Saturday 29th July 2017!
"The perfect summer line-up, playing dozens of the best-loved rockin' pop classics. I'm happy to be hangin' out with our 'Doobie' friends… a great band," said Robert Lamm of Chicago. "We're excited to be touring with the Doobies again. I know we'll have lots of fun," adds Lee Loughnane. "Come see us in a city near you."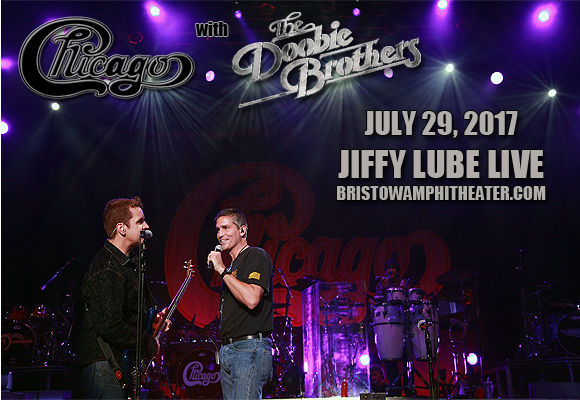 American rock band The Doobie Brothers has sold over 40 million albums worldwide throughout their career, and has been active in the music industry for over five decades. Starting out in 1970, for the first five years as a band, the group featured lead vocalist Tom Johnston and a mainstream rock and roll sound with elements of folk, country and R&B. After the departure of Johnson in 1975, the band embraced a more soul-influenced sound through their new lead singer, Michael McDonald, who fronted the band until their break-up in 1982. After reforming five years later, with Johnston back at the helm, Chicago has constantly toured since 1993, with McDonald sitting in with the band on occasion throughout the year, usually as a special guest. They were inducted into the Vocal Group Hall of Fame in 2004.