Jiffy Lube Live Information
You'll find all the Jiffy Lube Live information here that you need to get the best from attending this venue. The operating season for the amphitheater is usually May through September.
Jiffy Lube Live History
Jiffy Lube Live, located in Bristow, Virginia is a popular outdoor live performance amphitheater that was opened in 1995 with a performance by The Village People. Formerly this amphitheatre was known as Nissan Pavilion or Nissan Pavilion at Stone Ridge. This amphitheatre is just 35 miles from Washington DC. The amphitheatre can seat 25,000 with 15,000 on the lawn and 10,000 in reserved seats. Owing to its seating capabilities, the amphitheatre is one of the largest music oriented performance venues in Washington Metropolitan Area.
Early in 2010, the amphitheatre was renamed Jiffy Lube Live due to the new business agreements with Jiffy Lube Washington Area Co-op.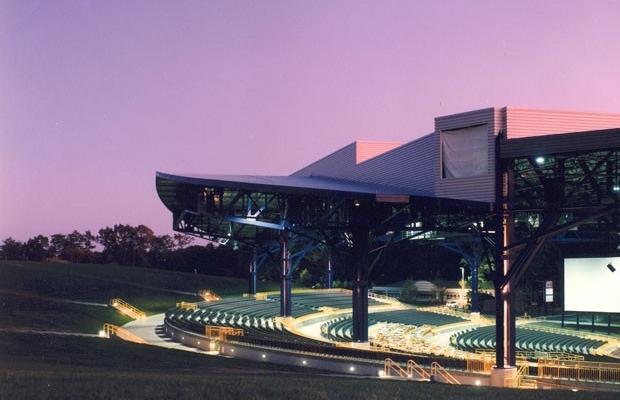 The amphitheatre has played host to a variety of music artists in summers such as Iron Maiden, Def Leppard, Ozzy Osbourne, Avenged Sevenfold, Judas Priest, Green day, Rob Zombie, Slipknot, Pearl Jam, Magadeth and more. The amphitheatre is also popular as it was the theater where the late saxophonist from the Dave Mathews Band, LeRoi Moore gave his last performance. Apart from these big artists, the theatre also plays host to several annual events such as Mayhem Festival, America's Most Wanted Tour, Ozzfest, Crue Fest, The Area2 Festival, Projekt Revolution, The Vans Warped Tour and Identity Festival, American Idol Live! The 311 Unity Tour and The Uproar Festival. Jimmy Buffet has also played at this amphitheater annually since 1995.
Apart from being used as a venue for music performances, the amphitheater also plays host to high school graduation ceremonies of schools from the Fauquier County and Prince William County.
About Jiffy Lube Live
Jiffy Lube Live is the biggest outdoor arena in the Virginia and Washington DC region. When you arrive at the venue, you'll find a large modern amphitheater, with capacity seating of over 25,000. Of these, 10,444 fixed seats are under cover, including 1,286 preferential seats and VIP boxes. It's ideal for live outdoor events, having a stage set up in a semicircle of fixed seats and sloping lawn space.
As Jiffy Lube Live was built for purpose, everything you need for an evening's entertainment is conveniently situated within easy reach. This includes interstate access, parking, food and beverage outlets, toilet facilities and a VIP lounge area.
Jiffy Lube Live is a state-of-the-art concert pavilion, where you'll find the hottest gigs in the music industry, including both well known and emerging artists.
Jiffy Lube Live Location
You'll find Jiffy Lube Live in Prince William County, Virginia. It's about 35 miles west of Washington DC, at 7800 Cellar Door Drive, Bristow, VA 20136. The amphitheater was built in a location close to Interstate 66 and its intersection with local State Routes. It offers 80 acres of parking, and is designed to handle large crowds and events over multiple days.
North of Route 66 and to the east are areas of natural beauty and historical significance, including Manassas National Battlefield Park and Bull Run. A few miles to the west are Lake Manassas and several golf courses.
Jiffy Lube Live History
The amphitheater was designed to maximize the entertainment experience for concert-goers, without disturbing local residents. People in metropolitan areas were suffering from the nuisance from big stadiums being located in densely populated locations. Concerts caused major traffic congestion and noise, as well as crowds of strangers spilling into the streets. Disney was also proposing a new theme park in the area. but local residents protested the idea.
To solve the arguments over these two issues, planning authorities decided instead to grant permits to build the original Nissan Pavilion. This became Jiffy Lube Live in 2010, as a result of a business deal with Live Nation. The venue launched its first show in 1995, with an all-star line-up that included Rose Royce, The Trammps, Laura Branigan and The Village People.
What Makes Jiffy Lube Live Special
Everything about Jiffy Lube Live is special, from the minute you enter the parking lot until you leave for home. It's in a great location for easy access from the interstate or local routes. The friendly venue staff are helpful and willing, and the whole pavilion is monitored for your safety and security.
Jiffy Lube Live is equipped for wheelchair access, and you can make specific mobility requests when booking your tickets. The amphitheater can also accommodate guests who are hearing or visually impaired, if you call the box office directly on 703-754-6400.
Going to Jiffy Lube Live is an adventure, where you can have a tailgate picnic in the parking lot before you see the show. Take your barbecue grill and your cooler – but make sure you pack them away safely before you enter the pavilion.
Jiffy Lube Live Sound System
The arena's High Def-quality sound system is backed up by two huge video screens on either side of the stage, so you can see and hear everything that goes on. Visitors have described the experience as a "sound of immense proportions", which easily drowns out the noise of the crowd around you. The amphitheater is lit up by huge batteries of lights, picking out excited faces in the crowd. You'll also see light playing over the pavilion's rugged interior, which looks like a giant Lego Technic project.
Who owns Jiffy Lube Live?
Jiffy Lube Live is currently owned and operated by Live Nation Worldwide Inc., a global concert promoter handling 40,000 shows a year around the world. The company took over the operation of this premier venue in 2010, after Live Nation merged with Ticketmaster. They then struck a deal with the Jiffy Lube Washington Area Co-op, and changed the pavilion's name to Jiffy Lube Live.
Common Rules
Pets, coolers, bottles, recording devices, or weapons are not allowed inside the venue. Cushions and blankets are allowed however these items are bound to be updated depending on the artist restrictions. Lawn chairs that are less than 9 inches are also allowed. You can carry food with you but it needs to be packed in a clear plastic bag. Food, water and alcoholic beverages are also available within the venue itself.
Tailgating activities should be conducted in accordance to Virginia Law and underage drinking is illegal. Guest drop off facility is also allowed, but you will have to return by 9:30PM to pick up your guest as the police will start closing the road by 9:45PM for egress.
Parking Information
Parking spaces are provided and they are adjacent to the amphitheatre. Apart from regular parking, limited VIP parking spots are also available and can be purchased along side your VIP tickets.