Jiffy Lube Live | Bristow, Virginia
And just like fine wine, Alice Cooper get more gruesomely spectacular with age! No wonder, he's touted as the 'godfather of shock rock'. Yes, his indefatigable stamina for performing onstage will be challenged by a hard-rocking' band who is now blowing gusty chart-topping singles in the airwaves — Halestorm. Alice Cooper & Halestorm are on a double-headliner tour,
These highly combustible acts have joined forces and are set to bring madness, mayhem, and music at the Jiffy Lube Live on Tuesday 13th August 2019. Lock-in these dates and don't miss this deliriously great show! Book your tickets now!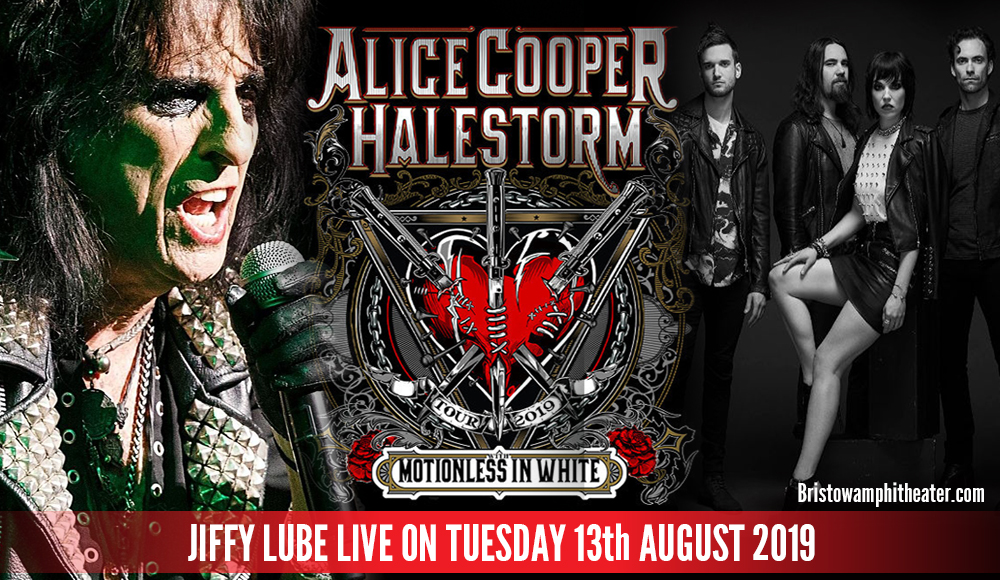 Before today shock rockers wore prosthetic make-up, gruesome masks, included special effects, Alice Cooper was marked and made infamous during the 70s by the bloodcurdling "chicken incident" — a myth that persists to this day, wherein Alice Copper was said to have bitten off a live chicken head on stage. Hence, the sub-genre "shock rock" was born. Their third album "Love It To Death" was their first taste of commercial success. They enjoyed a string of monumental chart-topper which include the iconic single and album "School's Out." For Alice Cooper, the hit songs were truly great, but his live shows were absolutely epic! The 'chicken incident' was then followed by more horror-theatrics like an electric chair execution at the end of the show… Alice Cooper is indeed a living legend whose showmanship served as a template for the theatrical rock acts of today. In December 2010 it was announced the Alice Cooper (the band) would be inducted into the Rock and Roll Hall Of Fame. A citation truly deserved by such a unique and audacious rock genius.
With this upcoming concert with Grammy-award winning rock band Halestorm, Alice Cooper is hyped and looking forward to going head-to-head with rockers more than half his age… "We've played festivals with Halestorm, including Rock In Rio, and now I'm excited about doing this summer tour with Lzzy and the band, can't wait to get to the first show," said Alice Cooper.
Halestorm on the other hand, are giddy about meeting and performing alongside their rock n' roll hero. "We are beyond excited to announce our new tour with the man who burnt the rule book on Rock 'n' Roll…Alice Cooper," Lzzy Hale, frontwoman of Halestorm, shares via press release. "Alice is our A in the ABC's of Rock music, and we are honored to be sharing the stage with such a legend and his incredible band. School's definitely out!"
Now is the time for you to stick it to the man! Rock to your heart's content. Don't miss this for the world!