Jiffy Lube Live | Bristow, Virginia
EVENT RESCHEDULED TO MONDAY 5TH SEPTEMBER 2022. Originally Tuesday 12th July 2072. All original tickets are still valid!
As long as you love them, the Backstreet Boys will keep on coming back…alright! "Now throw your hands up in the air… And wave 'em around like you just don't care… If you wanna party let me hear you yell"! Every BSB fans are definitely screaming at the top of their lungs right now as the Backstreet Boys officially unveiled details of their "DNA World Tour", and yes, it includes a stint at the Jiffy Lube Live on Tuesday 21st July 2020. If you declare yourself as a true-blooded Backstreet Boys fan, then don't waste a single minute. Click on that 'get tickets' link on this site and book a ticket right here, right now!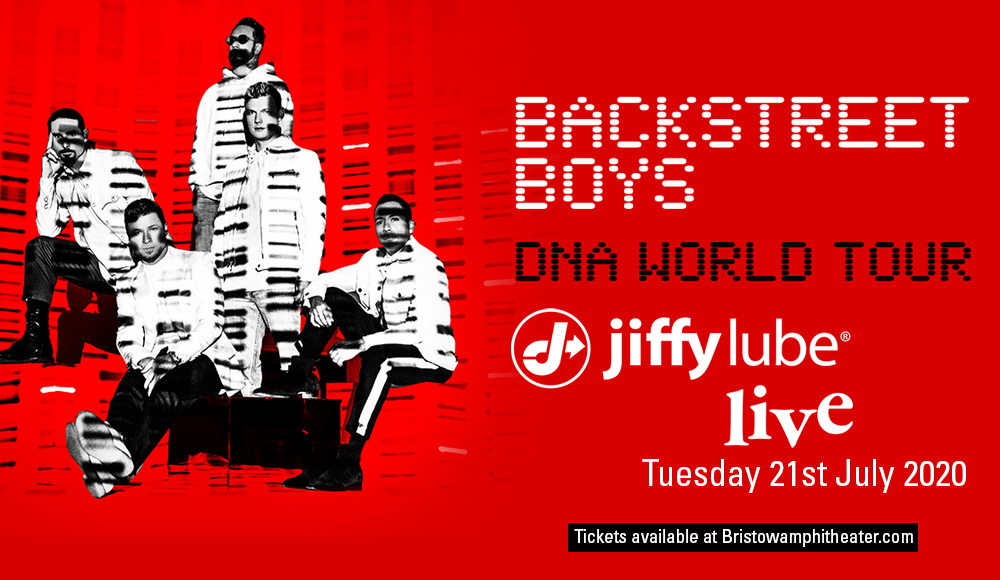 The Backstreet Boys' official announcement of their "DNA World Tour" on Twitter and other social media sites was met with a rousing wave of re-tweets , likes, heart-reacts, shares, and nothing but love and excitement on the comments section. As North America shall serve as the springboard of this tour, which has become one of the group's biggest arena tours in 18 years, triggered by the global success of its No. 1 and Grammy-nominated album "DNA", the boys tweeted with a video saying: "North America you knew we'd be coming back again We're so excited to bring the #DNAWorldTour to even more of you guys!!"
From their 1996 self-titled debut album, then on to the groundbreaking phenomenal international grand slam chart-topping albums "Millennium" (1999) and its follow-up album, "Black & Blue" (2000), and up until their hiatus and cool-down periods, the Backstreet Boys are one of the rare breed of boybands who have continued to reap and enjoy success long after their peak. The Backstreet Boys are certified as one of the best-selling boy bands of all time, and one of the world's best-selling music artists, with a record of having sold over 100 million albums worldwide…and still counting.
"We give our fans 100%, night after night, putting on the best Backstreet Boys show we can. We play our hits, we dance our asses off and we do it because we love our fans," said Backstreet Boys member AJ McLean. "We have the best fans in the world. They come out to party and they sing at the top of their lungs and we feed off that energy. We can't wait to take this show on the road again this summer."
Are you ready to give back that same 100% pure love to the Backstreet Boys? Start with this one simple step: click 'get tickets' right here, right now!