Jiffy Lube Live | Bristow, Virginia
All good things come to an end, or so they say. But for veteran heartland rocker Bob Seger, the end calls for a celebration! Seger recently announced that Bob Seger And The Silver Bullet Band will now embark on their final tour dubbed as the 'Travelin' Man' tour. With this, fans of Seger can be part of this rockin' farewell. Pin this location and save this date: Jiffy Lube Live on Saturday 25th May 2019. The 'Travelin' Man' will definitely have a lot of eager fans raring to go the distance to grab tickets to the show. No need to search far and wide. Tickets are right at your fingertips. Just click "Buy Tickets", then you'll be well on your way to catch Bob Seger And The Silver Bullet Band one last time.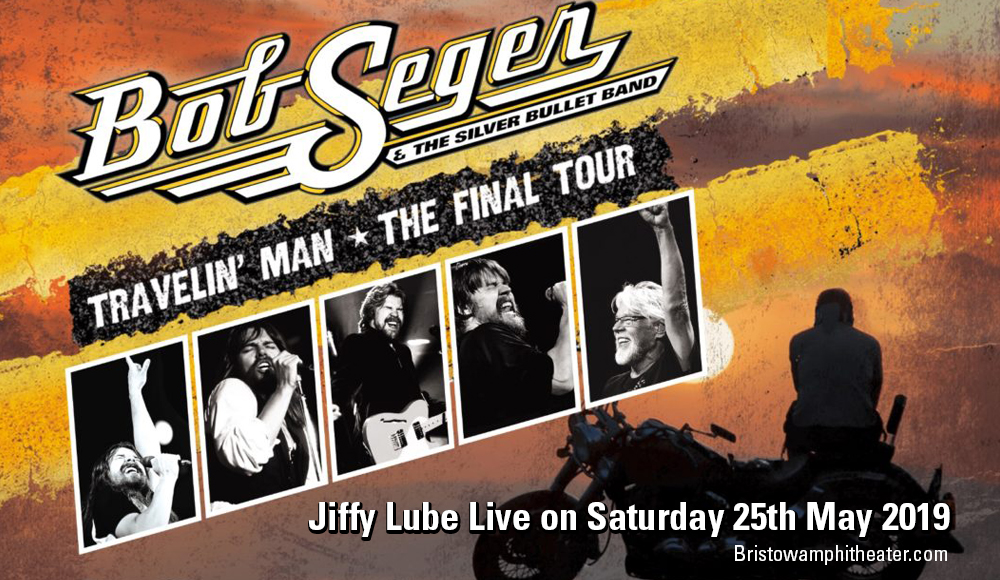 Bob Seger's flourishing music career includes more than 50 years of live performances. Hence, with his announcement that he is about to take his final bow, fans took it with the utmost respect. But Seger is not one to just go quietly into the night. He chose to have a rockin' farewell tour dubbed as the 'Travelin' Man' tour.
"I can't do this much longer. My manager is 70. We've been together for 45 years now and we need to stop pretty soon and turn it over to the Kid Rocks and Eminems. I guess we're in the final stages here. When I got offstage the other night I said to my security guy, 'That was surreal. I can't believe I just did a full-on rock show.' It's just surreal."
Bob Seger started his music career in the early '60s where he formed or became part of several bands. He cut his first solo album in 1971. Then in 1974, he official formed The Silver Bullet Band. Seger has countless albums to his name and his signature hits include: 2+2=?", "Ramblin' Gamblin' Man", "Ivory", "Night Moves", "Mainstreet", "Rock and Roll Never Forgets", "Fire Lake," "Against the Wind," "You'll Accompany Me", "Her Strut", "Hollywood Nights," "Old Time Rock and Roll" and "We've Got Tonight." Seger is also an accomplished songwriter, and he shares songwriting credits for the No. 1 hit song "Heartache Tonight" for The Eagles.
Give your final salute to this heartland rock veteran Bob Seger And The Silver Bullet Band. Don't miss it for the world!