Jiffy Lube Live | Bristow, Virginia
The power of classic rock music and the legacy of the Grateful Dead is alive and kicking through its off-shoot band DEAD & COMPANY. This super band composed of two original Grateful Dead members and new recruits which include blues superstar John Mayer have mapped-out a 19-date summer tour which includes this much-awaited show at the Jiffy Lube Live on Wednesday 26th June 2019. Kick-out the blues and rock to your heart's content by getting hold of tickets to the show as early as possible. Deadheads won't pass up on this opportunity. Book your tickets now!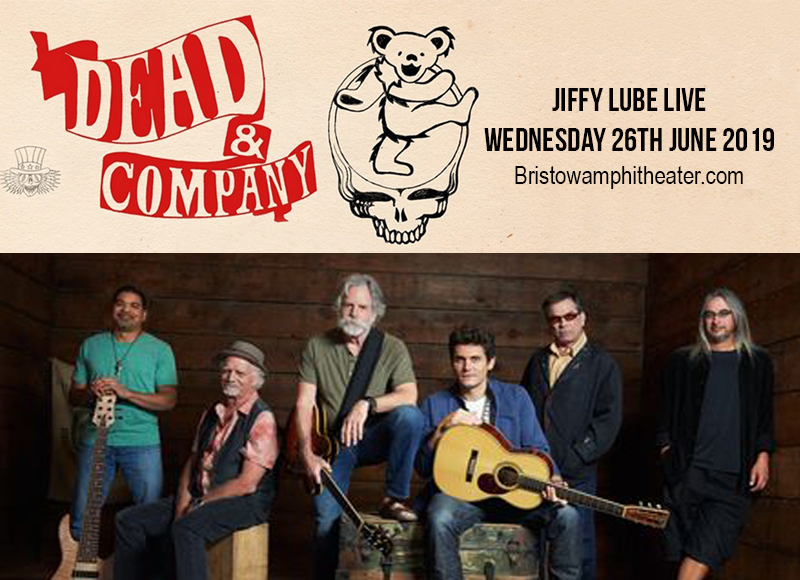 With Jerry Garcia's untimely demise in 1995, the Grateful Dead ceased to exist…until Dead & Company breathed new life into the Grateful Dead's treasure trove of catalogue hits. Grateful Dead co-founders Bob Weir, Bill Kreutzmann and Mickey Hart found themselves new music partners –Oteil Burbidge, John Mayer and Jeff Chimenti, and officially formed Dead & Company in 2015. They forged on as a magnanimous tour de force, with headliner performances at Bonnaroo, a sold-out New Year's Eve show at The Forum in LA, and a free show at The Fillmore in San Francisco, and other sites that were reminiscent of Grateful Dead's landmark concert venues.
With superstar John Mayer filling-in the shoes of ex-frontman Jerry Garcia, he leads with a varied playlist, yet one will most likely hear Grateful Dead staples classics like "Cold Rain and Snow," "Playing in the Band," "Scarlet Begonias," "Friend of the Devil," "Sugar Magnolia," "Truckin'," "Althea," "Box of Rain" and "Mama Tried."
With the heart of two original member and new-bloods pumping the spirit of classic 'Dead and infusing it with their individuality. Keep tabs of this show's schedule and make sure you get your hands on those highly in-demand tickets.