Jiffy Lube Live | Bristow, Virginia
Def Leppard, REO Speedwagon & Tesla comes to Jiffy Lube Live on Wednesday 10th August 2016
"Do ya wanna get rocked? Let's get, let's get, let's get, let's get Rocked……" All metal rockers out there are invited as Def Leppard, REO Speedwagon & Tesla are letting all out for this exciting screamfest. The overwhelming demand for tickets show that fans are all pumped-up for this all-star event. The chance to get rocked by not one, not two, but three three rock heavyweights — Def Leppard, REO Speedwagon & Tesla, is a chance-of-a-lifetime you wouldn't want to miss.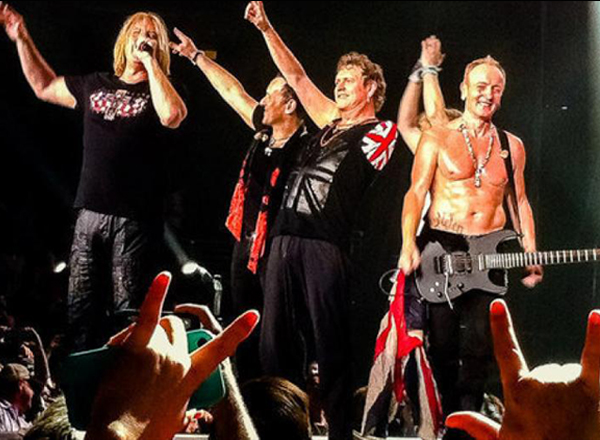 Despite capping 2015 with a whopping 50-city tour, Def Leppard fans are raving for more! This 2016, Def Leppard, along with REO Speedwagon and Tesla —the omnipotent gods of classic rock will unleash yet another power-packed tour covering several cities in the US alone. Def Leppard will headline this triple bill tour. But they truly get by with a little help from their friends. Iconic power rock ballads hitmaker REO Speedwagon and glam rock hero Tesla will share the stage with them.
English rock band Def Leppard banded together in 1977, and since then there was no stopping them from blazing new trails for the so-called New Wave of Heavy Mental movement. Since 1992, their band member line-up include Joe Elliott (lead vocals), Rick Savage (bassist, backing vocals), Rick Allen (drums, backing vocals), Phil Collen (guitar, backing vocals), and Vivian Campbell (guitar, backing vocals). From the 1980s to the early 90s, the band soared and lorded over rockdom. They achieved the pinnacle of success via the release of their 1987 album 'Hysteria', which spawned seven monster hits: "Love Bites", alongside "Pour Some Sugar on Me", "Hysteria", "Armageddon It", "Animal", "Rocket", and "Women". This was followed by 1992 chart-toppers: "Let's Get Rocked" and "Have You Ever Needed Someone So Bad".
In 1993 and 1995, the singles "Two Steps Behind" and "When Love & Hate Collide", respectively, sent them up further the dizzying heights of commercial success. With cumulative sales of over 100 million records, they anked No. 31 in VH1's "100 Greatest Artists of Hard Rock"[12] and ranked No. 70 in "100 Greatest Artists of All Time".