Jiffy Lube Live | Bristow, Virginia
Grammy-winning country trio, Dixie Chicks have RETURNED! And will be coming to Jiffy Lube Live on Saturday 25th June 2016! Their legendary performances and beautiful classic sound has melted the hearts of many fans around the entire world. Since their last show, back in 2013, The Dixie Chicks are hitting the road to celebrate their first tour in 10 years! The 'DCX MMXVI World' tour is bound to be an overnight sell-out – so be sure to book your tickets in advance.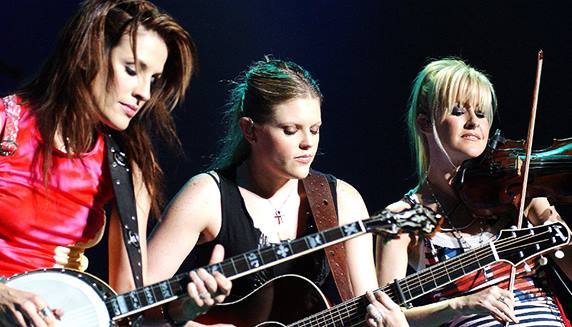 Formed in Dallas in 1989, Texas, the Dixie Chicks began their career. Multi-instrumentalist sisters Martie and Emily Erwin started to make music together with just an Upright Bass and Guitar. Since, the Erwin sisters have since married and changed their names. And crafted the Dixie Chicks line-up that we know of today with two added members. The four took their band name from the song "Dixie Chicken" by Lowell George of Little Feat.
Dixie Chicks have had a legendary career of over 26 years in the Country and Western music scenes. Their angelic vocals, blended with effortless and traditional string led songs took the mainstream market by storm, in 1998 they released their first two smash hit singles – "There's Your Trouble" and "Wide Open Spaces".
Since then, Dixie Chicks have won an outstanding 13 Grammy Awards! For their Grammy Award winning record "Taking the Long Way", they sold 30.5 million certified albums and gain enormous sales of 27.4 million albums in the US alone! With this unbelievable success, Dixie Chicks quickly headed to the top of the charts and became the top selling all-female Country band in the US!