Jiffy Lube Live | Bristow, Virginia
Calling all metalheads!! None other than Five Finger Death Punch and Breaking Benjamin are going on tour together – the announcement coming along with news of new albums from both bands!! Joining them on tour are Nothing More and Bad Wolves!! Catch it all on Friday 24th August 2018 at the Jiffy Lube Live – it's going to be an incredible show!! Get your tickets NOW, as they won't last!!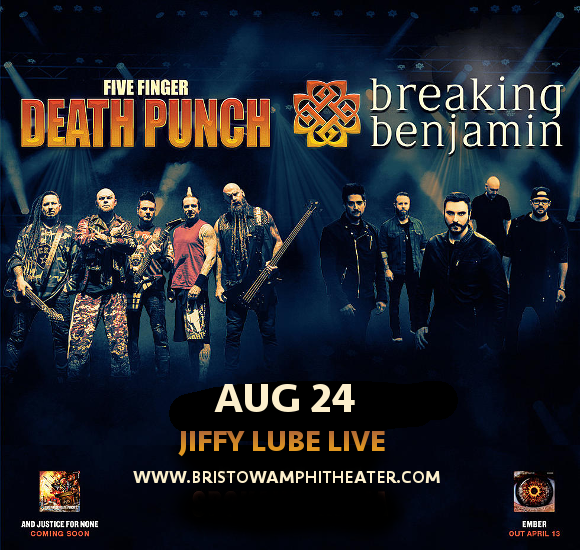 Breaking Benjamin's new record is entitled "Embers," and is due out on April 23. Listen to the new hit single "Red Cold River," below. As for Five Finger Death Punch, "And Justice For None," is scheduled for release on May 18, and according to the band, it's going to be epic: "I think that what's really important is how the public feels about it. I think it's a great record. Everything that we do, we put a 110% into it," said Jason Hook, Five Finger Death Punch's guitarist, letting fans know what to expect on the release date. "We're very particular about these records because we're living in an age where people are so quick to consume that they'll blow through a record and then throw it over their shoulder. So I think these things are forever. They have to be great. They can't just be good."
What are you waiting for?? Grab your tickets and get ready to hear it all live!!