Jiffy Lube Live | Bristow, Virginia
Foreigner are heading out on tour to celebrate their 40th anniversary! The classic rockers will be joined in the extensive stint by Cheap Trick & Jason Bonham's Led Zeppelin Experience, and head to Jiffy Lube Live on Tuesday 25th July 2017!
"I couldn't be a better mix for me," Jones says. "It's almost like a family tour, with some healthy competition from everybody, I'm sure. Cheap Trick's not an easy band to go on after." Jones expects some collaboration as well once the three acts are on the road together. "I'm sure everybody's gonna get on like a house on fire, so it couldn't be better as far as I'm concerned," he says.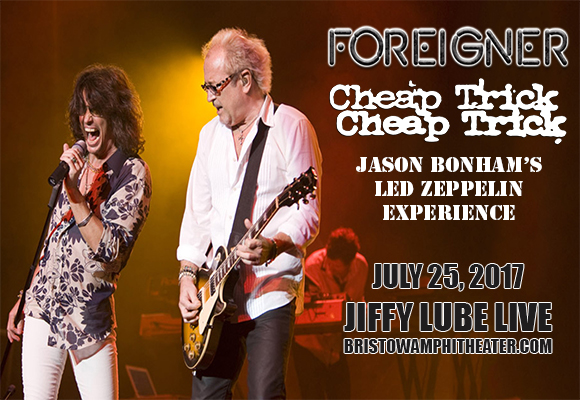 One of the world's best-selling bands of all time, Foreigner formed in New York City in 1976 and released their debut album one year later, selling more than four million copies in the United States, staying in the Top 20 for a year, and launching the hits "Feels Like the First Time", "Cold as Ice" and "Long, Long Way from Home". The band went on to have fourteen Top 20 Hot 100 hits (1984's hit single "I Want To Know What Love Is" went to No. 1 in both the US and UK) and six consecutive multi-platinum albums between 1977-84. They have had worldwide sales of more than 80 million records, including 37.5 million records in the US.