Jiffy Lube Live | Bristow, Virginia
Professional comedians and competitive pranksters Joe, Murr, Q and Sal, aka Staten Island comedy troupe The Tenderloins, are bringing Impractical Jokers Live to Jiffy Lube Live on Sunday 16th August 2020! That's right, the cast of TruTV's hit comedy program are taking the show on the road on the Scooski Potatoes Tour! An all new show, filled with antics, gags and capers that only these crazy kids could pull off, the Scooski Potatoes Tour is a must for any fans of the Impractical Jokers – it'll have you rolling in the aisles for sure!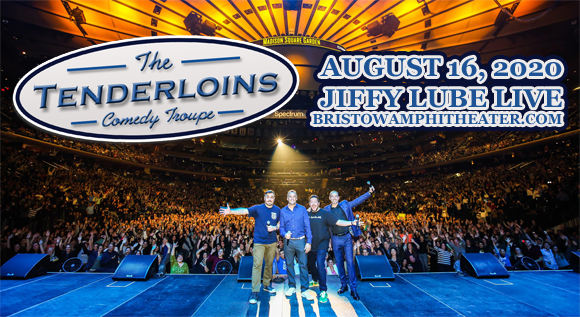 Forming as a sketch and improv comedy troupe in Staten Island, upon graduating high school in 1999, The Tenderloins are best known as the stars and creators of TruTV's popular television series Impractical Jokers. Comprised of comedians Joseph "Joe" Gatto, James "Murr" Murray, Brian "Q" Quinn, and Salvatore "Sal" Vulcano, the group began working the New York City comedy circuit throughout the 2000s, and became knwon for its online videos of comedy sketches, which the group began posting to YouTube, MySpace and Metacafe in 2006. They won the 2007 NBC It's Your Show competition with the sketch "Time Thugs", taking home a $100,000 grand prize, and were soon picked up by Spike TV for a short-lived series. They began Impractical Jokers with TruTV in 2011, and the rest was history… The show is now in its ninth season, and has also been adapted into a feature film – both available in 2020.