Jiffy Lube Live | Bristow, Virginia
Get ready, because one of the most popular alternative rock bands are heading to Jiffy Lube Live on Wednesday 12th July 2017!! That's right, it's time to grab your tickets to see INCUBUS! Accompanied by the amazing Jimmy Eat World, they're back with a brand new album waiting in the wings – DON'T miss out! Hit the "Buy Tickets" button above NOW before they sell out!!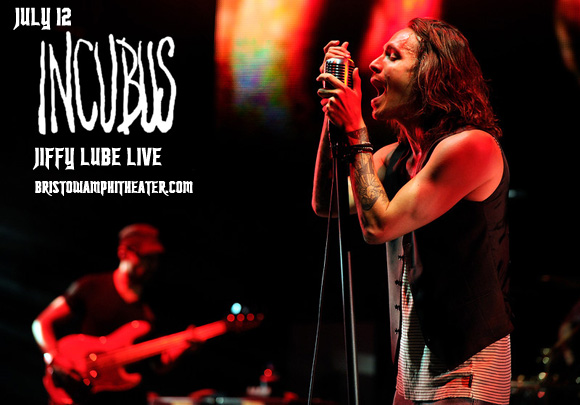 With their 8th studio album upcoming (literally entitled "8") Incubus are embarking on a MASSIVE tour with Jimmy Eat World, starting in July 7th and finishing up on August the 19th, hitting 30 cities along the way! It's a very exiting time for fans – the band have just released their first single from the upcoming album in the form of a lyric video, which you can listen to below!! "Nible Bastard" is a fun and energetic, carefree song. It goes right back to the band's roots and the guitar-led sound that was their signature wen kicked off with with the album "Make Yourself," and its very popular singles "Stellar" and "Pardon Me". They went on to achieve massive mainstream success with their next album "Morning View", which spawned the hits "Warning," "Nice to Know You," and "Wish You Were Here" and granted the band a following that would see them through their journeys across genres and continents, applying everything they learned to their music and constantly evolving and changing, chameleon-like, in their sound.
We've loved every moment of it, but their oldest fans, of their oldest sound, will be most thrilled of all to see that "8" is taking Incubus back to their simpler, guitar-led roots – old sound, new songs! So don't delay – get your tickets NOW!!