Jiffy Lube Live | Bristow, Virginia
Calling all metalheads – are you hyped for IRON MAIDEN!? You heard right, they're on a MASSIVE worldwide tour – coming to the Jiffy Lube Live on Wednesday 24th July 2019!! Get ready to join the clan and be part of the crowd in what is guaranteed to be one of the greatest heavy metal concerts of the year – book your tickets NOW!!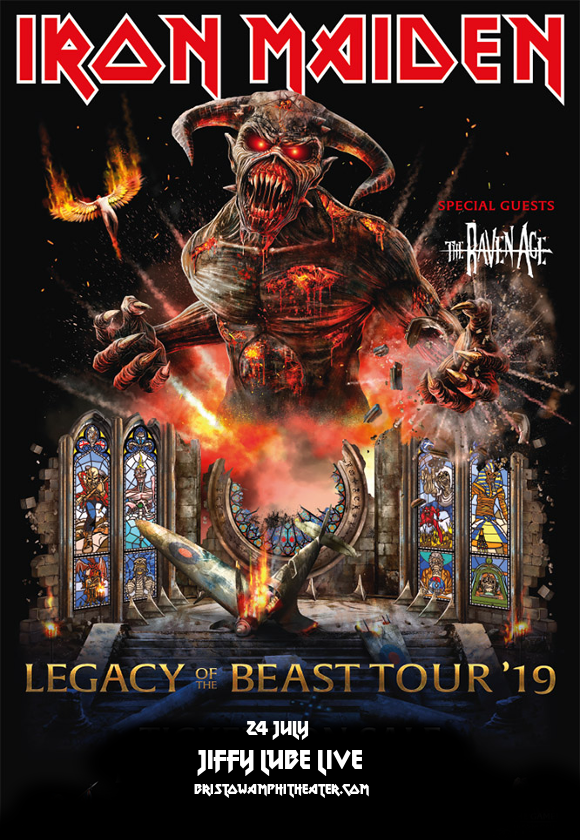 Currently comprised of band members Steve Harris, Dave Murray, Adrian Smith, Bruce Dickinson, Nicko McBrain, Janick Gers, few metal bands are more instantly recognisable than Iron Maiden and their figurehead featured on the cover of every album, the nefarious undead Eddie! Known for their immense discography, made up of 16 albums, and their high-end stage shows, their career spans the course of over 4 decades. With sales of over 100 million copies of their albums around the world, they are widely considered to be one of the best-selling heavy metal bands of all time.
Iron Maiden always pull out all the stops when performing live, but their 2019 tour promises to be something truly out of the ordinary even by their standards. Based off the band's own mobile game, "The Legend Of The Beast," the upcoming tour follows the themes of the game, which takes the band mascot Eddie through various locations, which the band have re-created on stage, and specially curated their setlist to fit the nature of the changing worlds.
It's going to be nothing short of spectacular – Iron Maiden fans, be there!! Book your tickets NOW!!