Jiffy Lube Live | Bristow, Virginia
Grammy Award-winning singer, songwriter, and master entertainer Janet Jackson is back to dominate the live stage at her 2023 'Together Again' tour featuring her special guest, Ludacris. The tour is taking a stop at Jiffy Lube Live on Saturday, 6th of May 2023 as Jackson takes the spotlight on her acclaimed records "Janet" and "The Velvet Rope" alongside her biggest hits. The tour celebrates her 50th-year milestone as an entertainer in the industry. Confirming new songs in the works, big surprises are in store as Janet Jackson comes together again with her fans on the live stage. Book your tickets now!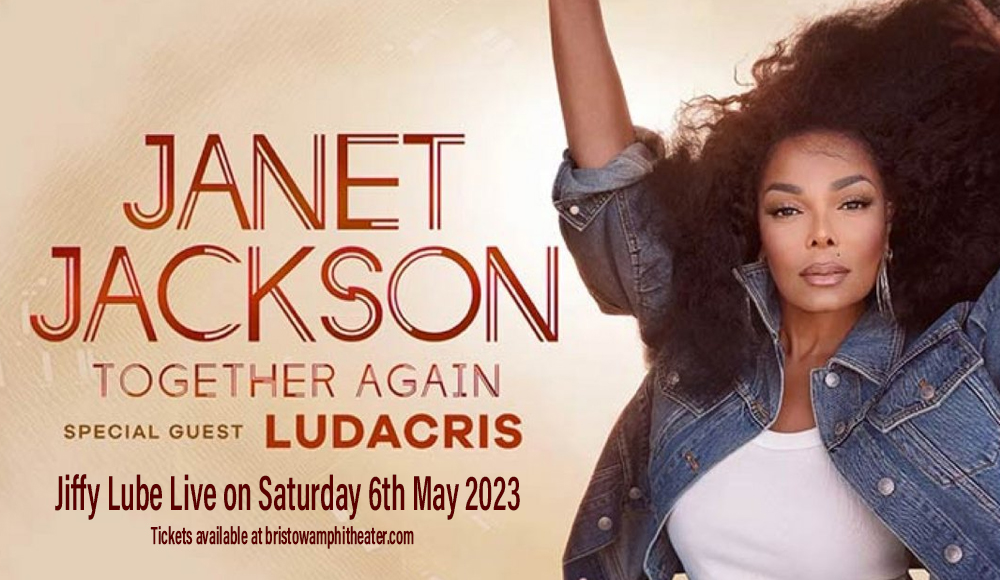 Janet Jackson, one of the world's best-selling music artists who's sold over a hundred million records, just announced her first major tour in four years. Following up her 2019 tour in celebration of 30 years of "Rythm Nation 1814", the R&B icon is gearing up for her 'Together Again' tour as she celebrates 50 years in the entertainment industry. Joining the tour as the supporting act on the 33-date trek is American rapper Ludacris.
"I feel great, we're so excited. It's gonna be a fun time with Ludacris as a special guest…," she shared on Today. "You know, I've never done it with him before, so he's a great fit. Thought it would be a lot of fun."
Beyond her big tour announcement, Janet Jackson also confirmed that she's back in the studio, teasing new songs coming out real soon. As fans have been searching for hints of new material from the queen since her 2015 record "Unbreakable" and 2018 single "Made for Now" with Daddy Yankee, it's time to celebrate as the 'Together Again' tour promises new music as she celebrates her 50th anniversary as a performer.
Back in October, the star took fans by surprise as she paid a visit to a London party celebrating the 25th anniversary of her 1997 album "Velvet Rope". At the party, Jackson shared memories of making the acclaimed record. "This album is so, so close to me," she shared with the crowd on IG live, as cited from Billboard. "It was, I would say, out of all the albums that I've created, and especially with Jimmy and Terry, it was the most difficult … the most difficult album for me to create."
As the youngest child of the Jackson family, Janet became exposed to the industry at an early age. She started acting in The Jacksons in 1976. By the age of sixteen, her dad and manager arranged a recording contract, allowing her to launch her debut record "Janet Jackson" in 1982. From then on, Jackson took to heart her passion, even if it involved having to let go of strict familial relations in order to pursue her liberation and artistry. Selling over 100 million records throughout her career, Jackson has seven #1 Billboard albums, five of which were released consecutively debuting at the top of the Billboard 200 chart. Janet Jackson's hit singles and industry-defining songs include "Together Again", "Any Time, Any Place", "That's the Way Love Goes", "Escapade", "Black Cat", "You Want This", "All for You", and so much more.
"A lot of the fans have been saying, 'Where's the new music? When are we gonna get new music?' So there will be new music" she shared.
Confirming new music in the works, Janet Jackson is set to throw big surprises in the coming months as she gears up for her extensive 'Together Again' tour with Ludacris.
Don't miss out on the party as Janet Jackson makes her big return to the live stage, drops new music, and celebrates 50 years of her passion on tour by booking your tickets now!