Jiffy Lube Live | Bristow, Virginia
80s rock fans, get ready for the show of the century!! It's been confirmed – the massive rock acts Def Leppard and Journey are touring together in 2018 for an incredible 6-month long run!! They're coming to Jiffy Lube Live on the Friday 8th June 2018 – get your tickets to this truly unprecedented event quickly, while they still last!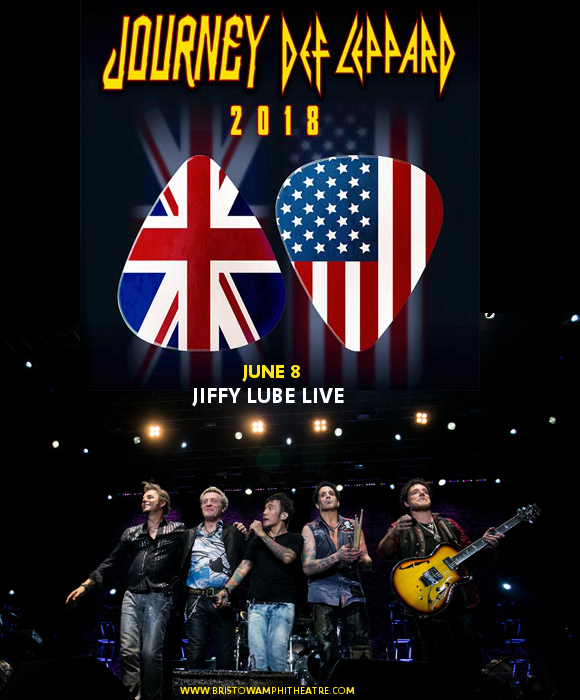 The news of the tour came last year, after Journey mentioned that they were considering touring with Def Leppard, and Def Leppard added to that rumor later, though saying "nothing is set in stone". Now, it very much is, and Journey and Def Leppard fans are rejoicing across the US, a sentiment shared by both Journey and Def Leppard themselves.
"The fact that we're touring with Journey, and it's putting us into huge arenas like Madison Square Garden and stadiums, that is very special for us," Def Leppard's Joe Elliott enthused. When asked about whether they tired of playing the same songs over and over, they were adamant in their response; "It's not a curse, it's a blessing. … These are the songs we nurtured, we wrote, we're proud of. They made us who we are? Why would we abandon them?"
Get ready for a truly unforgettable hard rock experience with two of the best selling bands of the 80s and all the hits you know and love from "Don't Stop Believin' to "Pour Some Sugar On Me" – tickets selling out FAST so don't delay, get yours NOW while you still have the chance!!