Jiffy Lube Live | Bristow, Virginia
Hip-hop and R&B fans get ready, because the Jiffy Lube Live has got you covered this summer! That's right, none other than Kendrick Lamar is on tour, and he's taking SZA and Schoolboy Q along with him for the ride!! Get ready for a series of truly epic performances at the Jiffy Lube Live on Friday 1st June 2018 – but you'll need to get your tickets quick, they aren't going to last long!!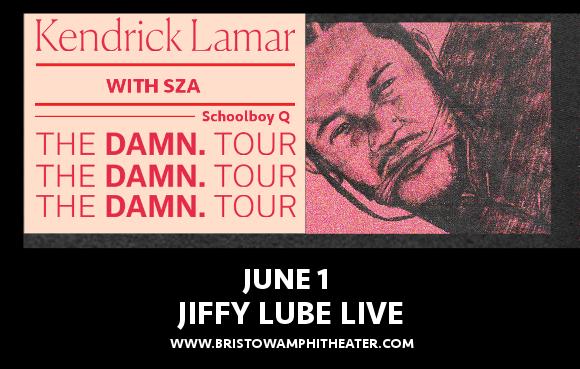 The winner of no less than SEVEN Grammy Awards, and listed as "Hottest MC in the Game" by MTV in 2013, Kendrick Lamar has made waves on the hip-hop scene ever since he first appeared!! Gathering local attention with his very first mixtape, Kendrick Lamar's latest album, "DAMN," hit number one in its first week of release, marking his third album to do so! By the time he put out "Section.80," his first independent release, he had already made his mark on hip-hop, collaborating with massive names including the likes of Snoop Dogg!
Even more exciting, Kendrick Lamar has recently revealed that "Damn," can be played in reverse!"It plays as a full story and even a better rhythm," the Californian born rapper said. "It's one of my favourite rhythms and tempos within the album. It's something that we definitely premeditate while we're in the studio."
What are you waiting for?? Don't delay – grab your Kendrick Lamar tickets NOW before they go!!