Jiffy Lube Live | Bristow, Virginia
One of the most highly anticipated and talked about tours of 2016 is here, Country's finest Kenny Chesney & Old Dominion are coming to Jiffy Lube Live on Thursday 18th August 2016! Bringing his brand new album, Kenny Chesney will be performing fresh anthems as well as all time favourites LIVE this Summer… This worldwide famous artist made himself Billboard's Top 5 Touring Acts of 2015 – alongside Taylor Swift, One Direction, U2 and the Rolling Stones. Now he returns bigger and better than ever – be sure to catch him while you can!
"What people don't see about these tours," the 8-time Entertainer of the Year says, "is when they're coming into the stadium that last month, we're already thinking about how we're going to rock the fans, really take them new places next year. Between the lights, the entrance, the stage, the videos, I work with one of the most incredible teams to find ways to really give the No Shoes Nation the kind of night that really makes their summer what they want it to be."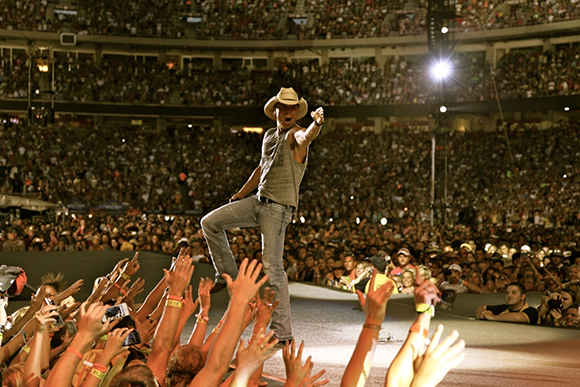 Kenny Chesney is an American singer, songwriter originally from Tennessee. His impeccable writing talent has placed him top of the charts for over 20 years, making the top 40 of the Billboard Hot 100 mainstream chart often has made him to be one of the few successful crossover country artists and one of the most successful, with a whopping 30 million albums sold worldwide!