Jiffy Lube Live | Bristow, Virginia
Are you ready to look into the masked face of death metal? Look no further. The Knotfest Roadshow featuring heavy nu-metal bands Slipknot, Killswitch Engage, Fever333 & Code Orange will be ripping up the stage of the Jiffy Lube Live on Wednesday 13th October 2021. A few months ago, word was sent up on their official pages confirming this tour that would take them all across the country. "With the world opening up, it's time to get excited about life again," Slipknot's Corey Taylor said in a statement. "To get back to life again. This tour is a long time coming and we hope you're as excited to see it as we are to play it. Stay safe, stay (sic) and we'll see you soon." Masks up everyone and flash your tickets. The Knotfest Roadshow is coming this way. Lock-in your tickets now!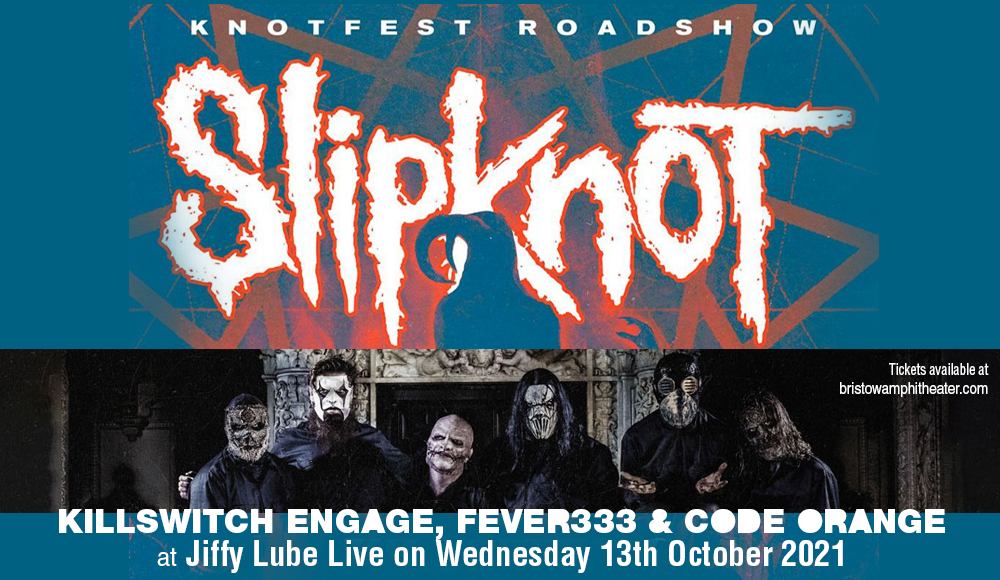 Slipknot are luminaries in the heavy metal rock music scene. They perform with strangely unique masks on — mask faces that only true 'Maggots' can love. Fact: 'Maggots' is an affectionate name given by Slipknot to their hardcore fans. And fans take no offense in it.
Hailing and formed in Des Moines, Iowa, in 1995 by founding members percussionist Shawn Crahan, drummer Joey Jordison, and bassist Paul Gray.
Their eponymous debut album was released in 1999 and immediately catapulted them to fame due to their growled vocals, screaming, backing vocals, heavy guitars, profanity, and lyrics that speak of darkness, nihilism, anger, disaffection, love, misanthropy, and psychosis.
As the band slipped their fourth album, after a brief hiatus. "All Hope Is Gone" debuted at number one on the Billboard 200 chart in 2008. Slipknot has made enough noise that even the Grammy Awards took notice. The band's 2005 single "Before I Forget" from their album "Vol. 3: (The Subliminal Verses)" gave them a Grammy win for Best Metal Performance.
Slipknot is also one of the most in-demand rock touring bands. Kerrang! says, "the choreographed chaos is too multi-faceted to fully describe", and NME described one Slipknot show as "a scene of chaos".
The Knotfest Roadshow is one of the highly coveted tickets now in this side of town. The 'Maggots' are crawling fast… Get your tickets now!