Jiffy Lube Live | Bristow, Virginia
"Are you ready…?!" Honestly, you might not be… Nu-metal founding fathers Korn have teamed up with alt-metal legends Faith No More to bring a mindblowing co-headliner tour to Jiffy Lube Live on Sunday 30th August 2020! Two of the most influential and highly regarded bands of the alternative metal genre, both Korn and Faith No More have legions of fans, and platinum-selling albums that changed the face of music as we know it, so seeing them live is bound to be an unforgettable experience! They'll be joined for this truly epic show by fellow alt-metal group Helmet and noise-punk duo '68 in support!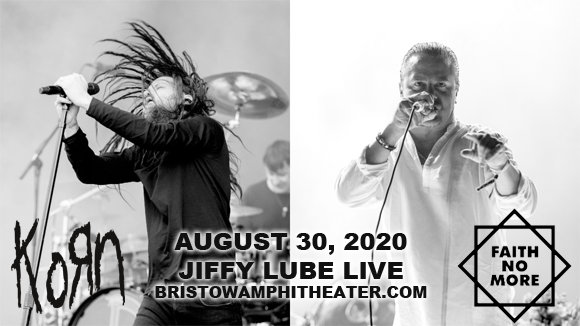 A pioneering force of the nu-metal movement, Korn was formed in Bakersfield, California in 1993 when three former members of the funk metal band L.A.P.D. (Love And Peace Dude, later Laughing As People Die) decided to embark on a new project. The group currently consists of founding members Jonathan Davis (vocals, bagpipes), James "Munky" Shaffer (guitar), Brian "Head" Welch (guitar, backing vocals), and Reginald "Fieldy" Arvizu (bass), as well as Ray Luzier (drums), who replaced the band's original drummer and founding member, David Silveria in 2007. After two moderately successful releases, the band's 1998 breakthrough album, Follow the Leader, was a huge mainstream hit, reaching the top spot on the Billboard 200, as did their 1999 follow-up, Issues. The group's unique mixture of funk, metal, hip hop and grunge, combined with frank and explicit lyrics dealing with a variety of dark and introspective themes, influenced an entire genre of music, and its musical legacy can be heard in the music of many subsequent bands. Korn's first seven albums have all been certified platinum or higher by the RIAA, and 12 of them have hit the top 10 of the Billboard 200, with eight of the reaching the top 5 of the chart. To date, the band has won two Grammy Awards from eight nominations, two MTV Video Music Awards out of 11 nominations, among other awards and accolades. The group's latest album is 2019's The Nothing.