Jiffy Lube Live | Bristow, Virginia
The summer concert heat rages on as nu-metal gods Korn announced their long-await epic tour of 2021. Joining forces with them on stage as special guests are Staind, who will be performing the entire duration of the tour. It's been a while (pun intended, actually) since rock fans witnessed such a highly combustible team-up to take center stage at the Jiffy Lube Live, on Wednesday, 11th August 2021. Expect both bands to unleash a slew of their gut-wrenching screamer hits like "Freak On a Leash", "Did My Time" "A.D.I.D.A.S.", "Blind" from Korn; while Staind would thrash out their chart-toppers like "It's Been Awhile", "So Far Away", "Outside", and many more! You are not licensed to scream unless you flash your tickets. Hurry, click that 'get tickets' link on this site to book your tickets now!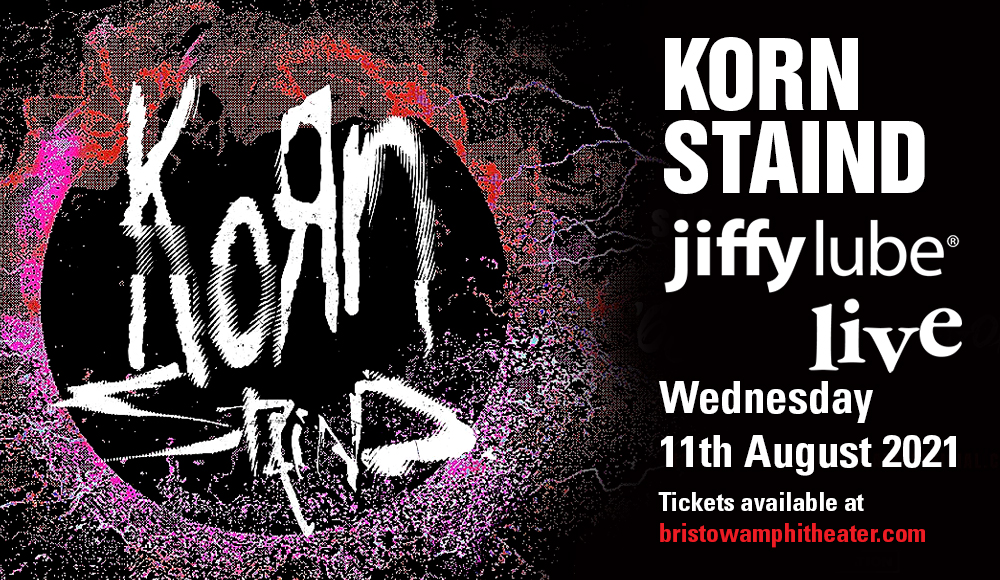 'The new genre of rock'. 'The new wave of metal'. Korn is credited for breeding that amalgam of rock sounds into the mainstream. Korn was formed in 1993 in Bakersfield, California by founding members James "Munky" Shaffer (rhythm guitar), Reginald "Fieldy" Arvizu (bass), Brian "Head" Welch (lead guitar, backing vocals), and Jonathan Davis (lead vocals, bagpipes). Their initial releases included debut album, Korn, (1994), followed by Life Is Peachy (1996). Mainstream recognition and success came with the release of subsequent albums Follow the Leader (1998) and Issues (1999), both of which debuted at number one on the Billboard 200.
By 2018, Korn had sold more than 40 million records worldwide, and still counting. Korn has amassed a whopping collection of two RIAA certified double platinum, one certified triple platinum, one certified five times platinum and two certified Gold albums. Korn has earned two Grammy Awards out of eight nominations and two MTV Video Music Awards out of eleven nominations.
Say you're a rock metal fan? Then you've definitely have nowhere to go on 11th August 2021 but be at the Jiffy Lube Live to see Korn & Staind live! It's now or never. Book your tickets right here, right now!