Jiffy Lube Live | Bristow, Virginia
Lauryn Hill & Nas are coming to Jiffy Lube Live on Friday 15th September 2017! This is a once in a lifetime show as two of the biggest and best Hiphop stars take to the road to celebrate their influential careers in music… The female front woman from the unforgettable group, The Fugees made her mark in many different ways, including appearances in blockbuster movies and of course, as a solo artist in her own right with beautiful singles such as; Ex Factor and Everything is Everything. Join them both for this special night – tickets on sale NOW!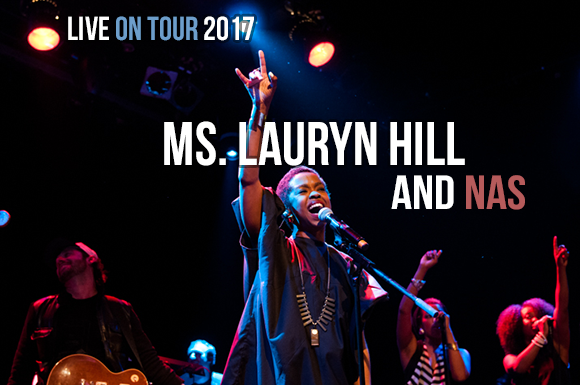 Lauryn Hill first came to light in the music business as the Female vocalist and Rapper in The Fugees, but it wasn't long until she would become a solo artist in her own right! With a record released in the late 1990's, no one could predict the sheer impact she has had on the music industry, influencing singer, songwriters all around the globe, with just ONE album to date!
The Miseducation of Lauryn Hill was recorded at Bob Marley's famous – Tuff Gong Studios in Jamaica and it's easy to spot the impact throughout the record, as she transports the listener on a journey through her own life. Every single song is a gorgeous display of her raw emotions and features fellow R&B stars such as D'Angelo, Mary J. Blige and the then-unknown John Legend. The beautiful 'To Zion', the incredible, Ex Factor along with other singles, flow so nicely into each other.
"We all love each other. This ain't about documents. This is blessed."