Jiffy Lube Live | Bristow, Virginia
**CANCELLED**
Due to the passing of lead singer Chester Bennington, the Linkin Park One More Light Tour has been cancelled. Refunds will be available at point of purchase. Rest in peace, Chester.
*******
Get excited, nu-metal fans!! One of the most innovative and genre-transgressing bands of the last two decades are back with a brand-new album – that's right, its Linkin Park, on tour with support from Machine Gun Kelly!! Ranked as the greatest artist of the 2000s in a Bracket Madness poll, the much-loved 6-piece will perform onstage at the Jiffy Lube Live on Wednesday 2nd August 2017!! Tickets for this event will sell out fast so don't delay in getting yours – book NOW to be sure of your place!!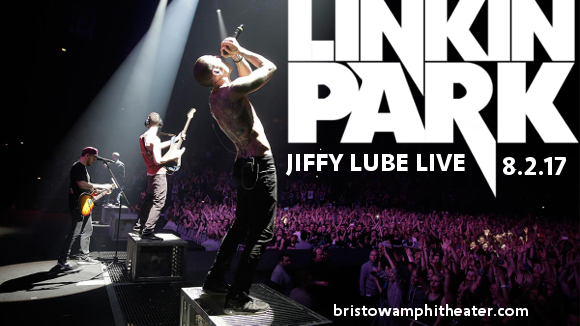 Rising to fame in 2000, Linkin Park blasted into mainstream prominence with their debut album "Hybrid Theory". A global smash hit, earning attention for its fresh, genre-blending sound, it was certified diamond by the RIAA in 2005, and in many other countries, reached multi-platinum certification!! Their follow-up, "Meteora", which hit the top of the Billboard charts, kept to a similar sound, firmly establishing them as one of the most popular acts on the alternative rock scene. From this rock solid foundation, as Linkin Park progressed, they began to expand their sound further from their already unique beginnings, experimenting with new genres with their third album, "Minutes to Midnight" in 2007, with lead singer Chester Bennington describing the album as "a mix of punk, classic rock, and hip-hop standards".
The changes were well-received by audiences – the album shot once again straight to the top of the charts, selling a record 623,000 in its first week, and earned triple platinum certification. Since then, the band have continued to experiment and expand their sound. Their upcoming 2017 album will contain new surprises – get ready to hear them all live!!