Jiffy Lube Live | Bristow, Virginia
Have you been 'counting stars lately, waiting for better days to come? Well, OneRepublic has some news for you! The Grammy-nominated pop-rock band behind global smash hits "Secrets", "If I Lose Myself", "Counting Stars", and "Apologize", just announced the Never Ending Summer Tour, taking a pitstop at Jiffy Lube Live on Saturday, 16th of July 2022. Tagging along is special guest NEEDTOBREATHE. And there's more! OneRepublic also just dropped their new single, "West Coast", an anthem of chasing a new start to brighter days. Last 2021, the band released their 5th studio record "Human" and an EP, "Sunshine: The EP". Are you in for a night of never-ending fun through hits that take you back and new tracks by OneRepublic live on stage? Grab those tickets now!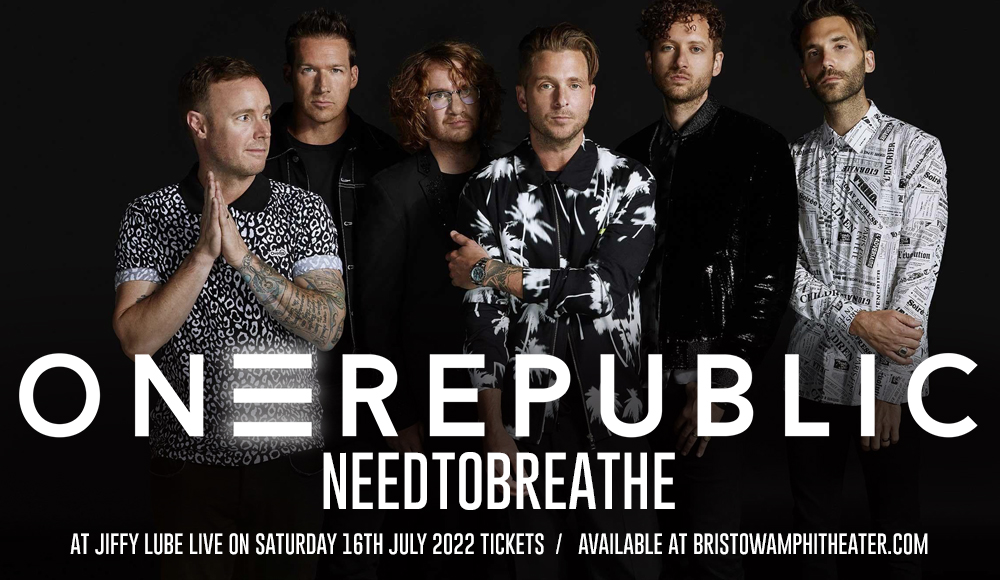 Prior to their 2007 commercial success with their debut single "Apologize" rearranged by the Grammy-award-winning producer Timbaland, OneRepublic traces its roots to 1996 when Ryan Tedder and Zach Filkins became friends and talked about starting a band together in their senior year. They played small gigs, and as they graduated from high school, the duo parted ways.
By 2002, they reunited and formed a new band named "Republic", signed with Columbia, and changed their name to OneRepublic. After two and a half years of working and recording their debut album, Columbia dropped the band just two months before the release of their debut record in 2006. Their debut lead single "Apologize" was posted on MySpace, receiving acclaim, topping MySpace charts. Ryan Tedder credits MySpace for keeping OneRepublic together.
By 2007, their debut album "Dreaming Out Loud" was finally released. After an unexpected shaky start with being dropped by their former label, OneRepublic skyrocketed to success with their 4x Platinum debut single "Apologize", garnering hits throughout the past decade with singles including "All the Right Moves", "Secrets", "Good Life", "If I Lose Myself", and the Diamond-awarded "Counting Stars".
Fans are definitely never gonna forget how OneRepublic touched their lives through captivating and empowering hits and fan-favorite tracks. As 2022 brings concert venues back to life, OneRepublic is set to bring never-ending hope for better days on the Never Ending Summer Tour. It's a night of unforgettable hits and fresh new music off of their latest album performed live on stage. Book your tickets now!