Jiffy Lube Live | Bristow, Virginia
Metal lovers, a truly historical time is approaching. The rumors have been confirmed – the legendary thrash band Slayer, a member of the Big Four, the founding fathers of metal today, is about to disband, and celebrating nearly four decades of Satanic symbolism and the most transgressively aggressive musical style that the world has ever seen with an ENORMOUS North American tour. What's more, they'll be accompanied by Lamb of God, Behemoth,Testament and fellow Big Four member Anthrax for the metal concert of your life. Get your tickets NOW, as they'll sell out fast, and head on down to Jiffy Lube Live on Sunday 10th June 2018 to pay tribute to one of the greatest metal bands that ever existed in what promises to be one of their greatest ever concerts!!!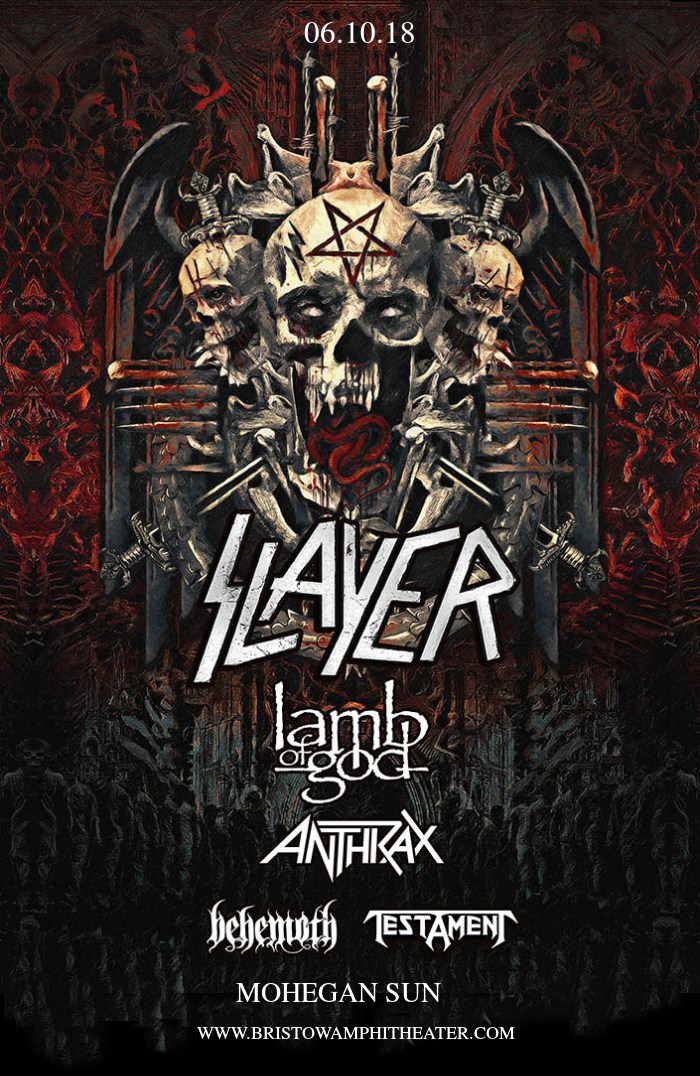 Formed in 1981, Slayer are one of the most influential early pioneers of the heavy metal genre, influencing countless bands that came after them. Their importance is widely recognised by musicians around the world. "It is irrefutable that Slayer helped create the genre of aggressive metal" said Randy Blythe, Lamb Of God frontman. "And all modern bands of that ilk owe them a huge debt – I know we do. To be asked to be a part of their final tour – well, it just makes you stop and realize just how lucky you are. Hail Slayer! We'll see you on the road."
What are you waiting for?? Get those tickets while you get and get ready to mosh your heart out!!