Jiffy Lube Live | Bristow, Virginia
Darkness will descend on Jiffy Lube Live on Sunday 1st September 2019 when Knotfest comes to town, raising hell and bursting eardrums! Slipknot's summer roadshow features an all-star line-up this year, with a headline set from the masked ones, as well as Volbeat, Gojira & Behemoth! Prepare for the mosh of your life! Also available as part of the 2019 Ticket To Rock package!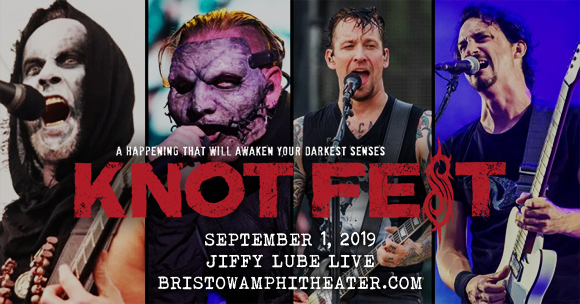 Formed in 1995 in Des Moines, Iowa by percussionist Shawn Crahan, drummer Joey Jordison and bassist Paul Gray, American heavy metal band Slipknot burst onto the metal scene in 1999 with the release of their eponymous debut album. Gaining quick momentum by word of mouth, the band's destructive and extreme live shows became infamous, as did their sinister, iconic masks, and their popularity only increased with the release of their sophomore album, Iowa, 2001. The band is best known for it's most consistent line-up of nine members: Shawn Crahan, Joey Jordison, Paul Gray, Corey Taylor, Mick Thomson, Jim Root, Craig Jones, Sid Wilson, and Chris Fehn, which lasted for over a decade, until Gray passed away in 2010. Throughout its career, the band has sold 30 million records worldwide, and they have won one Grammy Award (Best Metal Performance for "Before I Forget" from their 2004 album Vol. 3: (The Subliminal Verses)) from 10 nominations.