Jiffy Lube Live | Bristow, Virginia
Snoop Dogg & Wu Tang Clan 25th Anniversary of Doggystyle & 36 Chambers at Jiffy Lube Live on Friday 27th September 2019.
A celebration of two of the greatest and most influential albums Snoop Doggs' "Doggystyle" and Wu Tan Clans' "36 Chambers".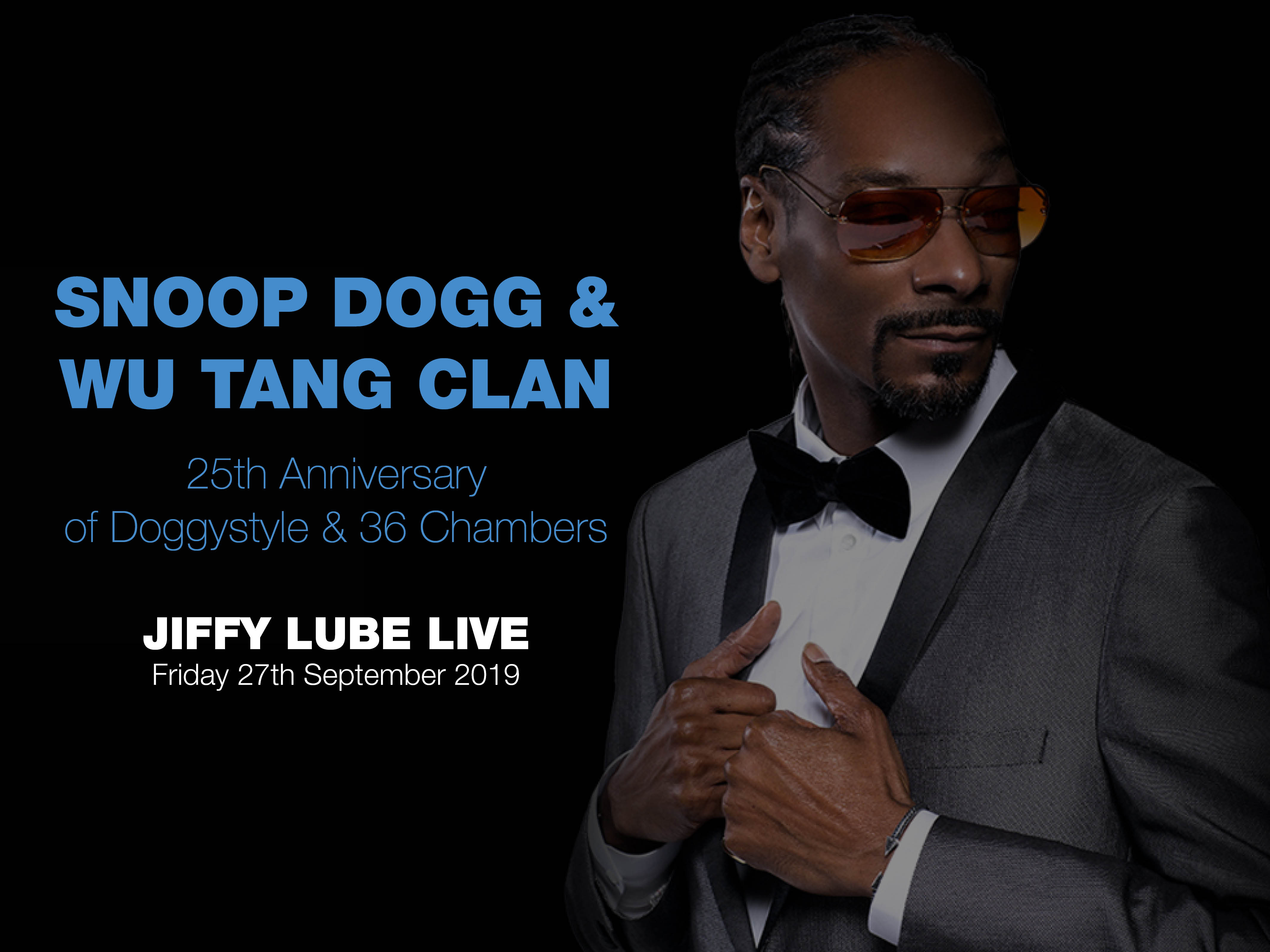 Snoop Dogg (Calvin Cordozar Broadus Jr) parent nicknamed him "Snoopy" because of his love of the cartoon character from peanuts. He began singing and playing the piano at Goliath Trinity Baptist Church and began rapping in sixth grade. When he began his recording career he took the name "Snoop Doggy Dogg" and worked with Dr. Dre on the theme song for the 1992 film Deep Cover and then Dr, Dre's debut album The Chronic with other members of his start up group The Dog Pound. All this intense exposure led Snoop Dogg to his own debut album Doggystyle.
Doggystyle was released on November 23, 1993 by Death Row Records and Interscope Records. The album continues in Snoop Dogg's west coast style hip-hop with critics praising the lyrical realism and Snoop Dogg's distinctive vocal flow, Doggystyle earned recognition from many music critics as one of the most significant albums of the 1990s, as well as one of the most important hip-hop albums ever released.
"Doggystyle" kicked the door wide for many West Coast emcees. Dr. Dre's finesse aside, Snoop's piquant delivery and melodic flow were equally crucial to the success of "Doggystyle."
Wu Tang Clan (Ol' Dirty Bastard, GZA, RZA, Raekwon, U-God, Method Man, and Ghostface Killah) assembled in the early 1990s and became famous in the underground in 1993 after releasing their single Protect Ya Neck and toured with Cypress Hill. Wu Tang Clan released their debut album Enter the Wu-Tang (36 Chambers) in November of 1993. This album turned out to be critically acclaimed, and to date is regarded as one of the greatest hip-hop/rap albums of all time establishing the group as a creative and influential force in mid-1990s hip-hop.
"36 Chambers" is one of the greatest debuts hip-hop has ever seen. The 12-song spectacle barely gave the nine original swordsmen enough room to stretch out their eccentricities. Highlights include "C.R.E.A.M.," "Protect Ya Neck," and the pragmatic life hack "Wu-Tang Clan Ain't Nuthing Ta F**k' Wit."