Jiffy Lube Live | Bristow, Virginia
Steely Dan & Steve Winwood comes to Jiffy Lube Live on Tuesday 12th July 2016
The musicians' musician. Steely Dan and Steve Linwood are luminaries revered by fans, respected by critics, and prime movers of the jazz fusion movement that have and continue to influence generations of musicians to this day. These guys are 'the authorities' who live, breathe, and keep the jazz scene alive and kicking.
With the announcement of their back-to-back tour Dubbed "The Dan Who Knew Too Much Tour," dubbed as "The Dan Who Knew Too Much Tour," expect to encounter not only a mob of fans, but a pack of musicians as well who would not miss this golden opportunity for the world. Don't leave another minute behind; it's time —get your tickets now!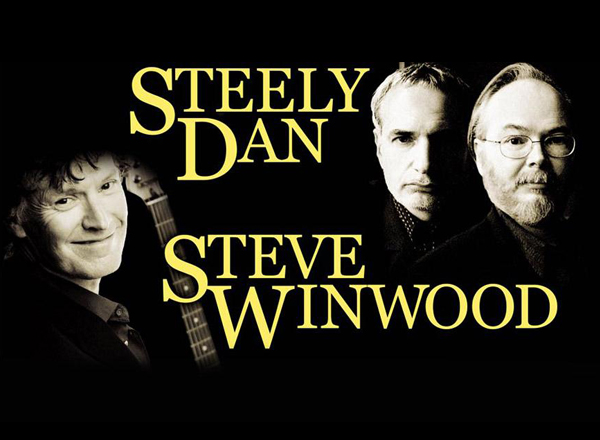 If the realm of jazz fusion had a gate with a lock and key, the gate keepers and key bearers would be none other than Steely Dan and Steve Linwood. With over 5 decades of astonishing body of work, Steely Dan and Steve Winwood have both carved their names as unwavering icons, not only to their loyal fans, but also to generations of musicians.
In a decade pervaded by disco dancing and hard, acid rocking, Steely Dan blended an eclectic concoction of jazz funk, R&B, and pop. Rolling Stones called them "the perfect musical antiheroes for the Seventies". Founded by core members Walter Becker and Donald Fagen in 1972, Steely Dan are marked by their massive hits and critically acclaimed songs like My Old School," "Show Biz Kids," "Rikki Don't Lose That Number," and "East St. Louis Toodle-Oo, "Do It Again," "Show Biz Kids," "Rikki Don't Lose That Number," "Pretzel Logic," "Peg," "Deacon Blues," "FM (No Static At All)," "Hey Nineteen," "Cousin Dupree," and "Bad Sneakers." Throughout their career, they released studio, compilation, and live albums that amassed over 40 million sales worldwide. They were inducted into the Rock and Roll Hall of Fame in March 2001.
Associated with groups like The Spencer Davis Group, Traffic, Blind Faith and Go, Steve Winwood later on chose to make it on his own, as a solo jazz artist. His music was primarily rock, but geared towards infusing elements of blue-eyed soul,rhythm and blues, blues rock, pop rock, and jazz. His catalog is abundant with wildly infectious hit that continue to resonate to this day — "While You See a Chance", "Valerie", "Back in the High Life Again" and two US Billboard Hot 100 number ones: "Higher Love" and "Roll with It". His career is decorated with awards and accolades. He is a recipient of the BMI Icon award at the annual BMI London Awards for his "enduring influence on generations of music makers." He was inducted into the Rock and Roll Hall of Fame as a member of Traffic in 2004. He has two Grammys, nominated twice for the Brit Award for Best British Male Artist.