Jiffy Lube Live | Bristow, Virginia
A triple headliner tour featuring three iconic alt-rock bands, The Cult, Stone Temple Pilots & Bush, comes to Jiffy Lube Live on Sunday 5th August 2018! Dubbed the Revolution 3 Tour, the summer stint sees the trio of chart-topping bands performing at cities all across the US, playing fan favorites from their decades as hit-makers in the industry!
"We are looking forward to see everybody in the summer. This is a great tour for rock fans," Bush's Gavin Rossdale said in a statement.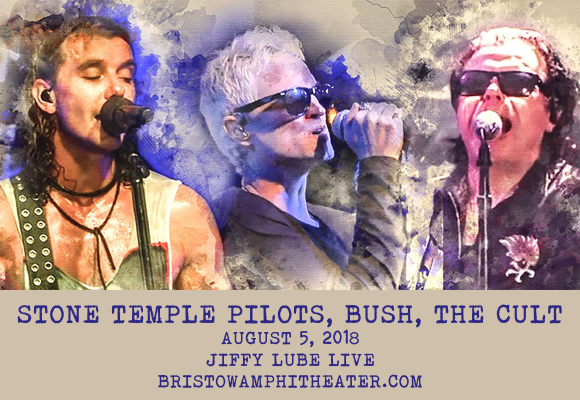 British rock band The Cult was formed in 1983. Finding success in the UK in the mid-1980s as a post-punk/gothic rock band, before breaking mainstream in the United States in the late 1980s as a hard rock band, The Cult are best known for their singles "She Sells Sanctuary", "Love Removal Machine" and "Fire Woman". After a hiatus from 1995-1999 and a lull in the early 2000s, the band reformed in 2006 to perform a series of worldwide tours, and have since released three more studio albums: Born into This (2007), Choice of Weapon (2012) and Hidden City (2016).