Jiffy Lube Live | Bristow, Virginia
"The smell of you in every single dream I dream" – well it's time to get up and finally meet that 'Mr. Mister on the radio behind smash hits including "Calling All Angels", "Drive By", and "Hey, Soul Sister", Train makes a comeback with AM Gold, their much-awaited new album after 5 years. With a new record expected to come out on May, the band also announced the AM Gold Tour, with a stop at Jiffy Lube Live on Wednesday, 15th of June 2022. Joining them are Grammy-nominated artists Jewel and Blues Traveler. So, get back on track and let Train lead you on a night of classic smash hits and fresh new music off of their new album live on stage. Book your tickets now!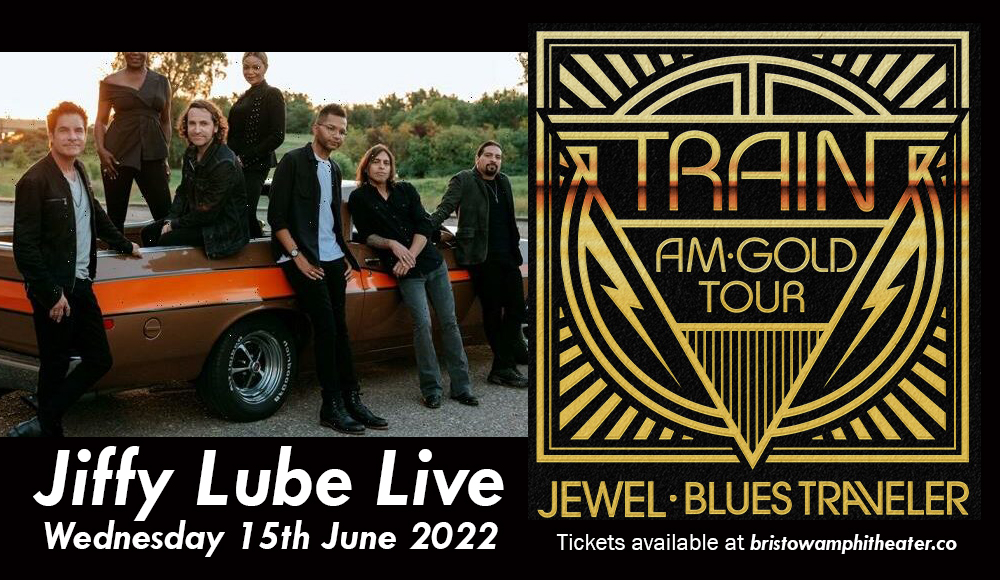 Train's journey is definitely golden, with humble beginnings in 1993 when Pat Monahan's Led Zeppelin cover band parted ways, he crossed paths with Hotchkiss in California, collaborating and thus creating the dream of what we now know as Train. With over 20 years of making waves in the pop-rock scene, Train has eleven albums up its sleeve and timeless platinum-awarded singles including "50 Ways to Say Goodbye", "Play That Song", "Marry Me", and the diamond-awarded worldwide hit "Hey, Soul Sister".
AM Gold marks Train's journey of over 20 years in the scene, from being initially rejected by their label to serving hits after hit worldwide. Their last record "A Girl, a Bottle, a Boat" dropped in 2017, and its been five years since Train teased a new album as they surprised fans with a new single "AM Gold", an announcement of a new album of the same name, and a comeback tour.
The guys behind 'that Mr. Mister on the radio is finally back on track to welcome fans aboard this journey in their new era. "2022 is the year of the Tiger… It has begun in a strong, beautiful, and encouraging way and it's only the beginning… We can't wait to see you all out there, dancing and singing along…" says Train lead vocalist Pat Monahan.
Don't miss out on Train's big comeback live on stage, book your tickets now!