Jiffy Lube Live | Bristow, Virginia
Prepare for a night of some of the best rock around as Weezer & Panic! At The Disco team up on an epic co-headlining tour that comes to Jiffy Lube Live on Friday 24th June! Both platinum-selling bands are touring to support release of a new album: Weezer's fourth self-titled album (known as The White Album) and Panic! At The Disco's Death of a Bachelor, so fans can expect a wealth of new material, as well as some of their biggest hits like "Buddy Holly" and "I Write Sins Not Tragedies"!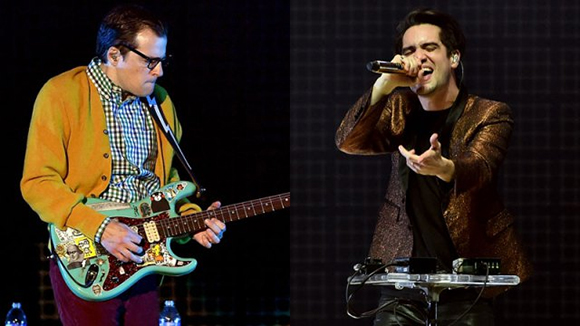 Weezer formed in Los Angeles, California in 1992. An alternative rock band, they have had three changes to their line-up over the years, and the band currently consists of Rivers Cuomo (lead vocals, lead guitar), Patrick Wilson (drums), Brian Bell (rhythm guitar, backing vocals, keyboards), and Scott Shriner (bass, backing vocals). They released their eponymous debut album (now commonly known as The Blue Album) in 1994, having signed to Geffen Records a year previously, and it eventually went triple-platinum. The group's 1996 album Pinkerton didn't match the commercial success of their debut, but subsequently achieved cult status and has often been noted as one of the best albums of the 1990s. 2001 saw Weezer in the spotlight again with the release of their second self-titled album, and the heavy rotation of the music videos for singles "Hash Pipe" and "Island in the Sun" on MTV. The band have released nine studio albums, with their tenth (also self-titled, and known as The White Album) slated for release in 2016. Weezer has sold 9.2 million albums in the US and over 17 million worldwide.